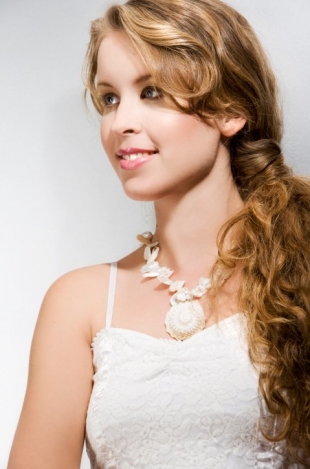 Top 7 Hairstyles for Winter Season
Winter, a season of cozy sweaters, hot chocolate, and festive celebrations can unfortunately bring about challenges like dry, dull, and frizzy hair. That's where the significance of having winter hairstyles comes into play – ones that keep your hair looking fresh and fabulous.
This article is here to present you with 7 winter hairstyles that are not only easy to achieve but also stylish and enjoyable. Whether your preference is a retro vibe reminiscent of the 60s and 70s, a sophisticated ponytail, or an exquisite pearl-embellished braid, our offerings encompass a variety of options.
Within the pages of this article, you'll discover 7 winter hairstyles that embody ease, style, and fun. They comprise:
Retro Volume: Drawn from the glamorous looks of the 60s and 70s, this style features voluminous curls and waves.
Grown-Up Ponies: An elegant and edgy take on pigtails, involving textured hair and artfully styled baby hair.
Bold Bucket Hat: A blend of practicality and fashion, a bucket hat complements a lively blowout.
Sleek Claw Clip: Effortlessly polished, this hairstyle suits all occasions.
Bubble Pony: A playful, distinctive look achieved using elastic bands to create a bubbly effect.
Pearly Braid: A sophisticated and romantic choice, intertwining pearl hairpins with a loose braid.
Cute Clips: Elevate your grown-out bangs with beaded hair clips, delivering charm and glamour.
Embrace these winter hairstyles to make the most of the season's offerings!
Retro Volume WINTER Hairstyles
Among the hottest trends this winter, the retro volume hairstyle stands out. Drawing inspiration from the glamour of the 60s and 70s, this style features large curls, waves, and flips. To master this look, equip yourself with a curling iron, a teasing comb, hairspray, and bobby pins.
1. Begin by curling your hair in sections, ensuring each curl faces away from your face.
2. Proceed by teasing your hair's roots for added lift.
3. Transition into securing your hair to one side using bobby pins after flipping it over.
4. Finish by setting the look with a spritz of hairspray. Additionally, consider accessorizing with a headband or scarf for a complete effect.
This hairstyle effectively infuses drama and flair into your winter ensemble.
Grown-Up Ponies WINTER Hairstyles
Think pigtails are reserved solely for children? Think again. Pigtails, when styled right, can transform into a chic and sophisticated winter look. The secret lies in adding texture and sculpting your baby hairs. For this, you'll require texturizing spray, a fine-tooth comb, gel, and elastic bands.
1. Start by applying texturizing spray to your hair, providing it with volume and grip.
2. Part your hair down the middle and create low ponytails at the back of your head.
3. Gently pull out strands from the ponytails using a comb, achieving a deliberately disheveled appearance.
4. Shape your baby hairs into swirls or waves using gel and the comb.
This style effortlessly brings edge and elegance to your winter aesthetic.
Bold Bucket Hat WINTER Hairstyles
The bucket hat, a practical and fashionable winter accessory, holds the power to transform lackluster hair into vibrant bounce with a simple blowout. To replicate this look, arm yourself with a blow dryer, round brush, mousse, and, of course, a bucket hat.
1. Apply mousse to damp hair to enhance volume and hold.
2. Employ a blow dryer and round brush to dry sections of your hair, lifting at the roots and curling at the ends.
3. Don the bucket hat, adjusting it to cover your forehead and ears.
4. Pull strands from under the hat to frame your face.
This hairstyle effortlessly adds warmth and whimsy to your winter ensemble.
Sleek Claw Clip WINTER Hairstyles
The claw clip has made its resurgence in the fashion scene, offering one of the simplest winter hairstyles. It's a tool that facilitates the creation of a sleek and polished look in mere minutes. This style can be accomplished using a flat iron, serum, and a claw clip.
1. Use a flat iron to straighten your hair, resulting in a smooth, shiny appearance.
2. Apply serum to subdue any flyaways and frizz.
3. Gather your hair at the nape of your neck or higher, fashioning it into a bun or loop.
4. Secure the bun or loop with the claw clip. To soften the look, consider leaving out strands at the front.
This versatile hairstyle is fitting for any occasion, transitioning effortlessly from work to leisure.
Bubble Pony WINTER Hairstyles
The bubble pony is a delightful and playful option for winter, designed to set you apart from the crowd. It involves a ponytail with sections elevated into bubbly formations. To achieve this style, you'll need a hairbrush, elastic bands, and hairspray.
1. Start by brushing your hair to eliminate tangles.
2. Gather your hair into a high ponytail at the top of your head, securing it with an elastic band.
3. Divide the ponytail into equidistant sections, fastening each section with another elastic band.
4. Gently tug on each section to create the rounded bubble effect.
5. Conclude by applying hairspray to maintain the structure.
This hairstyle effortlessly infuses a sense of fun and charisma into your winter demeanor.
Pearly Braid Hairstyles
The pearl hair trend, characterized by the addition of pearl hairpins or clips, embodies elegance and romance in the winter season. A loose braid adorned with pearls is one of the most graceful ways to embrace this trend.
1. Begin by brushing your hair to eliminate any knots.
2. Part your hair to the side and gather it to one side of your head.
3. Create a loose three-strand braid and secure it using an elastic band.
4. Integrate pearl hairpins or clips along the braid, spacing them evenly or sporadically according to your preference.
5. Seal the look with a spritz of hairspray to ensure its longevity.
This hairstyle effortlessly exudes sophistication and romance, making it a perfect match for your winter ensemble.
Cute Clips WINTER Hairstyles
Beaded hair clips are yet another trendy winter accessory capable of adding vibrancy to your hair in an instant. Particularly effective for accentuating grown-out bangs, beaded clips bring color and sparkle to your winter hairdo.
1. Initiate by brushing your hair to remove knots.
2. Part your hair in the middle or on the side, according to your preference.
3. Utilize beaded hair clips to secure your bangs or frontal hair sections, creating an alluring contrast.
4. Lock in the style by applying hairspray.
This hairstyle introduces a touch of glamour and charm to your winter style.
Hairdresser Neutral Bay
Winter needn't signal a period of drab hair. With these 7 winter hairstyles, you possess the tools to maintain a fresh and fabulous look throughout the season. Be it a retro volume, grown-up ponies, a bold bucket hat, sleek claw clip, bubble pony, or pearly braid, there's an option for every preference. Remember to include cute clips to infuse your hair with color and sparkle. Test out these winter hairstyles and share your favorites with us!
In conclusion, if you're looking for a hairdresser in Neutral Bay, Sydney, then Via Spiga is the perfect place for you. With a wide range of services and a team of experienced hair stylists, you can trust that your hair is in good hands. Whether you're looking for a new hairstyle, a color refresh, or just a trim, the team at Via Spiga Hairdresser Neutral Bay will help you achieve the look you desire. So why wait? Book your appointment today and get ready to look and feel your best!